Ubisoft has just released Ghost Recon Breakpoint Update 4.0 and we have the complete patch notes for your reading pleasure. The new update primarily focuses on Teammate Experience and aims to provide players with tons of quality of life features that help making partying up that much more easier and enjoyable.
While we do not have an update size for you just yet, we can confirm that the update is available globally for download on all supported platforms. There will be no server maintenance period for this particular update.
Ghost Recon Breakpoint Update 4.0 Patch Notes
Here are the complete patch notes for Ghost Recon Breakpoint Update 4.0:
Team Level: Common Team XP
While fighting to survive against ever-increasing odds, you've been gaining experience necessary to boost your chances of survival. Now, your teammates will also benefit from these engagements and earn experience as well! Coming in Title Update 400, your teammates will have a Team Level, which will be measured with a common XP bar called Team XP. Gaining teammate XP is as simple as playing the game with your AI teammates active! But that's not all: teammate XP can also be gained by playing and completing specific Teammate Missions when you perform actions that award XP such as kills, revives, and sync shots.
Accumulate enough of this XP to make your teammates more deadly in the field. Once your teammates have levelled up, you will receive a notification. This will tell you which upgrade you have unlocked, as well as link to the dedicated menu page.
Teammate Challenges: Cosmetic Rewards and XP
But that's not all! There will also be a new list of challenges that grant Team XP, as well as Cosmetic Rewards in Tom Clancy's Ghost Recon Breakpoint. Completing these challenges will unlock some of the following rewards:
Teammate Upgrades:
As mentioned above, your AI teammates will receive more upgrades as they level up. There are 14 upgrades to unlock in total, with three active abilities unique to each teammate. These abilities include:
Piercing Shot: Vasily performs a special shot dealing massive damage to its target. Vasily uses this ability only on drones and enemy vehicles.
Scan: Fury detects all nearby enemies and directly communicates their position to the whole squad.
Combat drone: Fixit deploys a drone fighting on his side. The combat drone automatically targets the closest enemy to Fixit when in a fight.
Each AI teammate will unlock one special skill once you have reached the required level. There is no need to micromanage – your squad will use their abilities autonomously when the conditions are met. Once used, these abilities will go into a cooldown before being available to be used again. Your teammates will call out when they use their skill, so you will be able to coordinate effectively as a squad.
Teammate Improvements:
The levelling system is not the only improvement being added in the update. The dev team has been working on added features in order to allow the teammates to meet some of your requests and to enhance immersion for your gameplay!
Manage your squad size: You can now activate or deactivate teammates individually. You can run your squad with the number of members you want.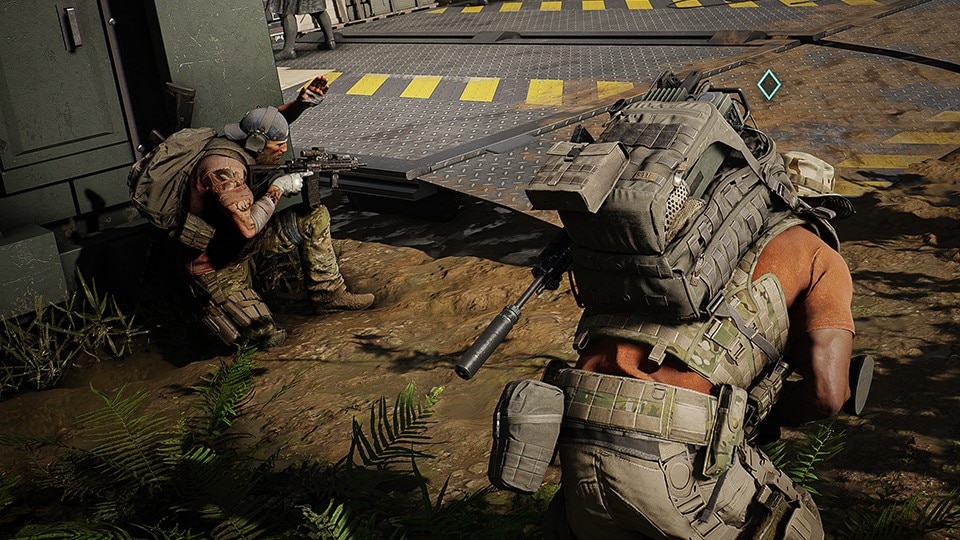 Customize your R6 teammates: The appearance and primary weapon of Rainbow teammates can now be customized. The only non-modifiable options are their body features and their head accessories.
Hide AI Teammates secondary weapon: You can now hide your teammates secondary weapon. When secondary weapon is hidden, it will only appear during Sync Shots, and will only appear when using this feature.
Disable AI Teammate skills: The new abilities that come with the update and the Rainbow abilities can be deactivated in the settings.
NVG Animations for AI Teammates: If the AI teammates have NVG equipped, they will perform the NVG equip animation when the player does. This is only visual and has no gameplay implications.
The Developers have also provided us with a list of bug fixes done in the new Ghost Recon Breakpoint Update 4.0 as well:
TU 4.0.0 Major Bug Fixes
Fixed an issue where players were receiving the following error codes when trying to join co-op mode: INFINITY-00000, INFINITY-00003, INFINITY-00001, INFINITY-00100.
Fixed an issue where Mozzie had a permanent bloodstain on his pant leg.
Fixed an issue where animals' sounds were missing.
Fixed an issue where intel would appear as unread after completing various investigations and missions.
Fixed an issue where Strike Designator could disappear from players' inventories.
Fixed an issue where blood splatters were missing.
Fixed an issue with the Paladin nine pants when equipped on male MC that would generate blood tints on his back and on his leg despite not being injured.
Fixed an issue where players could experience a crash when loading one of their saves.
Fixed an issue where NVG's color couldn't be edited separately.
Visual feedback added in customization menus informing players which items can have their colors modified.
Characters' textures have been optimized and improved during cinematics and bivouacs scenes.
---
Are you excited about the new Ghost Recon Breakpoint Update 4.0? Let us know in the comments section down below! If you'd like to read more game updates and news, check out our Patch Notes section.
Source: Ubisoft