World of Warships Update 0.10.9 is being deployed right now by Wargaming, and we have the complete list of patch notes for you. The latest update brings early access to the new branch of German Battleships, a new temporary type of battle called Twilight Hunt, two new Brawl seasons, a new temporary source called German Tokens, and further Halloween additions.
Here is all the relevant information you may need to know regarding the World of Warships patch notes for Update 0.10.9. The latest update is currently live and available as a mandatory download on all supported platforms. The maintenance time for the mentioned update will vary across the different regions i.e. US, EU, Asia etc. We don't have the actual file size for this update yet, but we'll upload it here as soon as we get our hands on it.
World of Warships Patch Notes: Update 0.10.9
Here are the official patch notes for World of Warships Update 0.10.9 that is now rolling out to all the supported platforms of the game:
The following new features await you in Update 0.10.9:
Early Access to the new branch of German battleships.
Operations Sunray in the Darkness and Saving Transylvania make a comeback, and a new temporary type of battle called "Twilight Hunt" has been added.
Rental submarines in Random Battles.
Two new Brawl seasons.
Let's dive into the details of these and other changes!
German Battleships: Early Access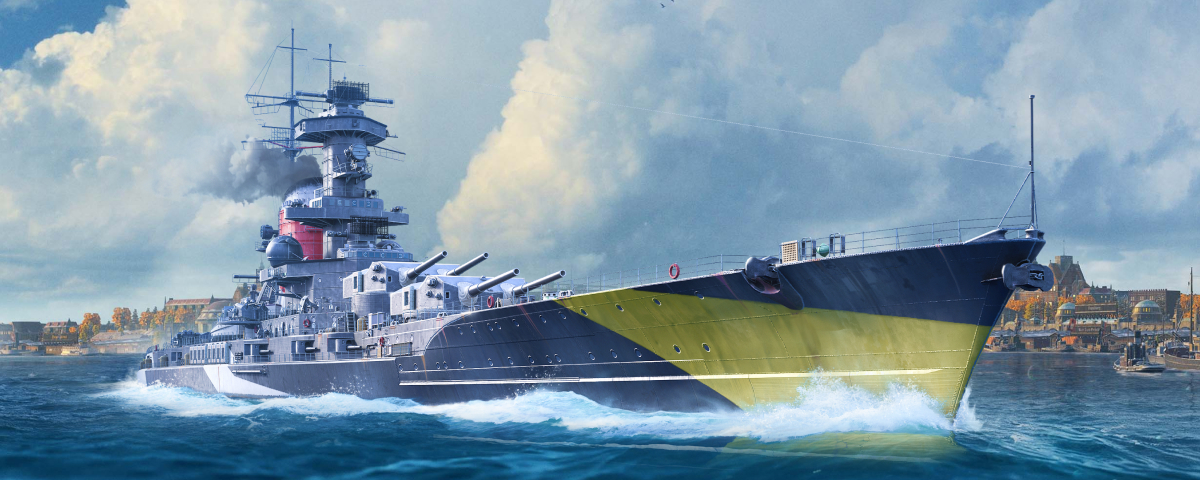 Update 0.10.9 brings Early Access to a new branch of German battleships.
Show More
Features of the Branch
While they don't have so many main battery guns, and those guns have a rather short range for this ship type, these battleships come out on top against their peers when it comes to accuracy. The shots you do fire will fly true and hit hard.
Long-range torpedoes on Tier VII ships and higher.
Numerous accurate secondary battery guns.
Low detectability.
A variant of the Hydroacoustic Search consumable that's similar to the type that German cruisers are equipped with.
The Fast Damage Control Team consumable.
The Hamburg Port has been updated to celebrate the arrival of the German battleships in Early Access.
Show More
German Tokens
German Tokens are a new temporary resource that can be obtained:
By participating in the Personal Challenges event.
From free daily bundles.
From bundles available for Doubloons.
In exchange for Community Tokens in the Armory.
RewardsSequentially available bundles with new German Tier III–IX battleships; the German Eagle permanent camouflage for
IX Prinz Rupprecht and
X Schlieffen; the German Navy permanent camouflage for
VII Prinz Heinrich and
VIII Zieten; the "German Battleships: Part 1" commemorative flag; and other items.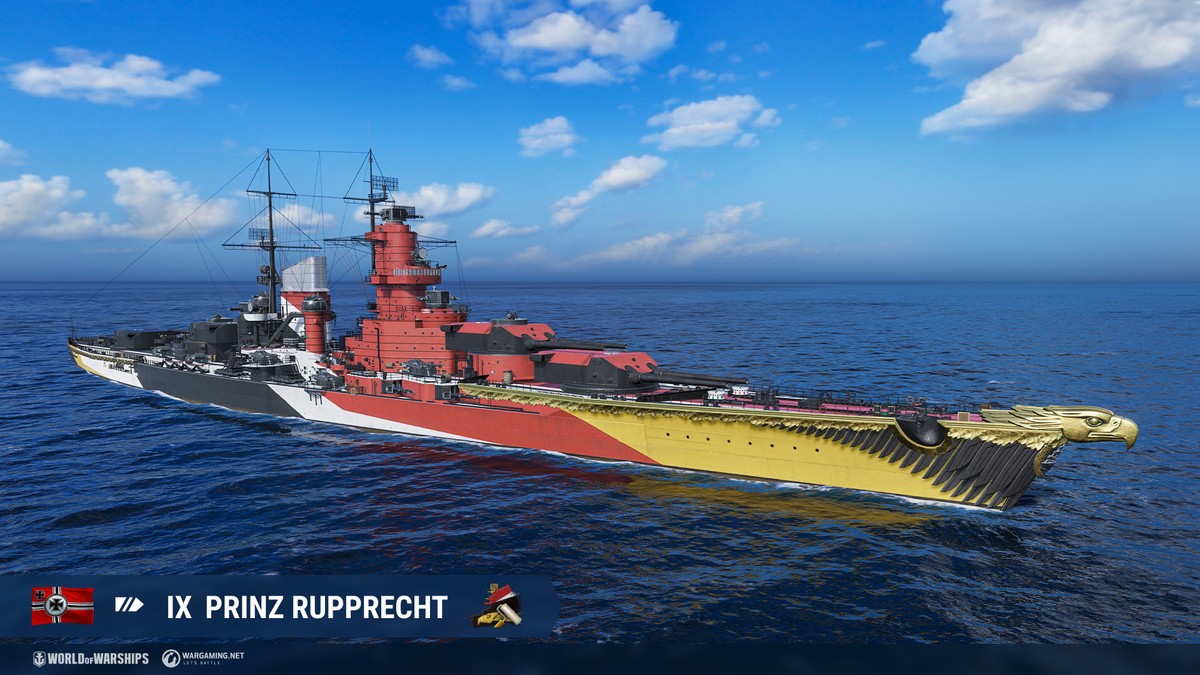 The number of Tokens you can earn by participating in Personal Challenges combined with those you can get from free daily bundles will be enough to obtain German Tier III–VII battleships and the German Navy permanent camouflage for
VII Prinz Heinrich.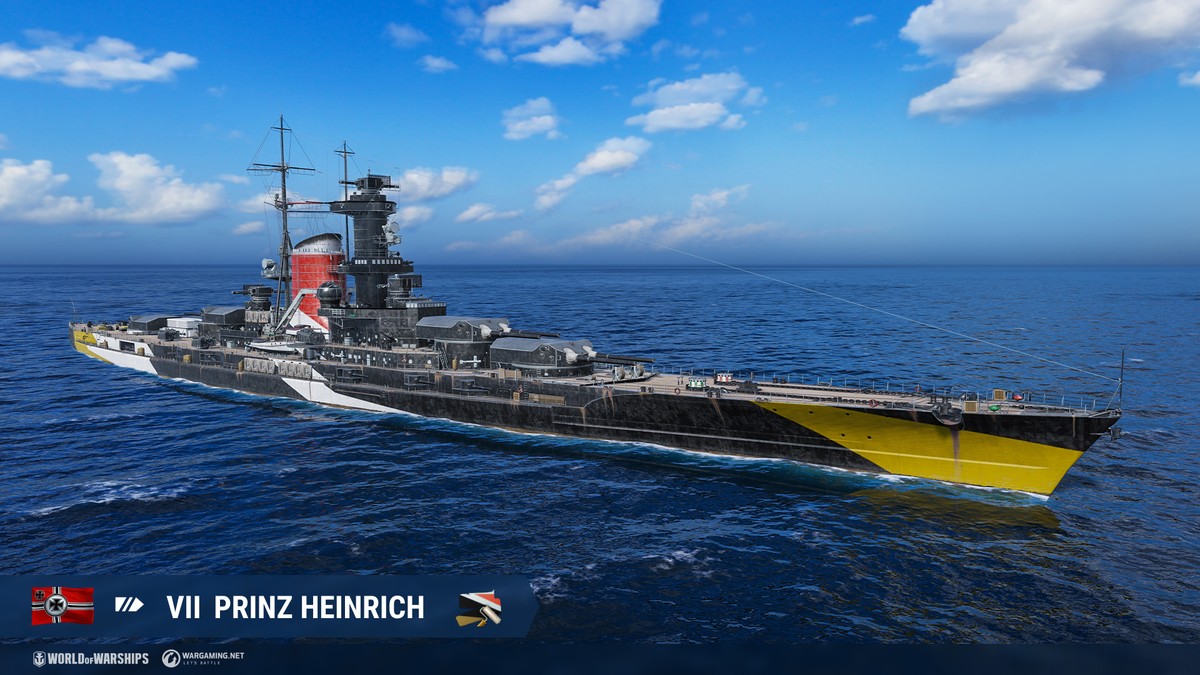 SchlieffenEarly Access to
X Schlieffen with a Port slot and 10-skill point Commander is one of the lots you can look forward to at the upcoming Lighthouse auction. The starting bid is
1,000 Doubloons; in total, 1,000 lots will be auctioned.
The Lighthouse auction will be held from October 7 through 11. Look for details about the auction rules, lots, their quantity, and starting bids in a dedicated article that will be published on our website later this week.
Personal Challenges

A new temporary event called "Personal Challenges" will be available to you for the entire duration of Update 0.10.9. The goal of the event is to earn as much Base XP as possible while demonstrating your skills in battle playing ships of different types and nations.
The rules are similar to Naval Battles: a personal table of records will become available to you. This table displays all the available ship types and nations. After fulfilling one of the mission's requirements, you can move on to the next part of the table, which will offer a more difficult mission.
Show More
Key rules
You can take part in the event playing researchable ships of Tier V and higher, and you can also play Premium and special ships of Tier V–X if the nation has a researchable branch of that type.
Personal Challenges can be completed in Random, Ranked, and Co-op Battles.
You have an unlimited number of attempts.
The table of records is reset once a week.
We come bearing gifts! Stay on the lookout for Community Tokens in this article and others on our website! You can exchange them for various items under the "Naval Community" tab of the Armory. Make sure to keep up to date with the news, and be sure to share the articles with your friends so they can also enjoy claiming gifts!
AsiaClaim TokensCIS(Ru)Claim TokensEUClaim TokensNAClaim Tokens
You can claim the gift before: Mon. 25 Oct. 15:00 CEST (UTC+2)
Halloween

In the dark night that bridges October 31 and November 1, hordes of dismal evil creatures squeeze out of their shelters and creep all around the earth, set on conquering new lands!
Operations Saving Transylvania and Sunray in the DarknessWe invite you to take part in Operations from previous years—save Transylvania and defend the waters of the Silver Spear Archipelago from invasion by the Forces of Darkness!
Both Operations can be completed while Update 0.10.9 is live. A Super Hard difficulty level is available in addition to the Normal and Hard difficulty levels.
The first completion of a Super Hard Operation with 3 Stars or more will bring you Jack-o'-Lantern Premium containers that have specific chances of dropping one of the permanent Halloween camouflages from previous years, as well as other rewards. These can include expendable camos, Doubloons, and Free XP. There is also the possibility that Halloween permanent camouflages might drop.
Twilight HuntOn the third week of the update, a new temporary battle type called "Twilight Hunt" will become available to you. Show your true courage in battles against the Twilight Fleet at the helms of these fantastic future ships.
Starts: Thu. 21 Oct. 07:00 CEST (UTC+2)
Ends: Thu. 11 Nov. 07:00 CEST (UTC+2)
Key rulesThe new battle type pits 16 players against each other and the AI-controlled Twilight Fleet, led by the terrible Rasputin, on the gigantic Polygon map.
Your main objective is to exit the Polygon via the Portal located at the center of the map. Be cautious—the Portal opens up only some time after the start of each battle.
You start out alone, but you can form teams directly in battle.
It is now possible to enter battle as part of a Division, but each player still starts the battle on their own. In order to coordinate their efforts, Division mates will need to locate each other on the map and create a team.
The Twilight Hunt ends when all surviving players exit through the Portal or when the battle time expires.
Show More
A temporary resource—
Battle Points—will be issued to players for destroying monsters and other players.
Having accrued a certain number of Battle Points, you can reinforce your ship directly in battle.
The Battle Points you receive aren't lost or spent in battle.
Successfully exiting the Polygon will double the amount of Battle Points you earn.
The Twilight Hunt mode is divided into three stages. Each stage has a different difficulty level: Normal, Hard, and Super Hard.
Players can take part in the Twilight Hunt on one of nine ships, and each ship has her own style of gameplay. Apart from IX Valkyrie, IX Gale, IX Heracles, X Hector, X Avenger, and X Whirlwind—ships that you're probably already familiar with—you'll also be able to join the battle on monster ships X Fangblade, X Thornridge, and X Lobster-Eyed. You must complete a special combat mission to obtain these ships.
Show More
RewardsEarn Battle Points and complete daily and weekly combat missions. As a reward for completing them you'll receive Jack-o'-Lantern containers, Community Tokens, a new temporary resource called
"Twilight Tokens", and other rewards.
Twilight Tokens can be exchanged in the Armory for themed Commanders with 10 skill points; Intanian Fleet permanent camouflages for VIII Admiral Hipper, VIII Hsienyang, VIII Implacable, IX Kitakaze, IX Dmitri Donskoi, and IX Iowa; Jack-o'-Lantern containers; and other items.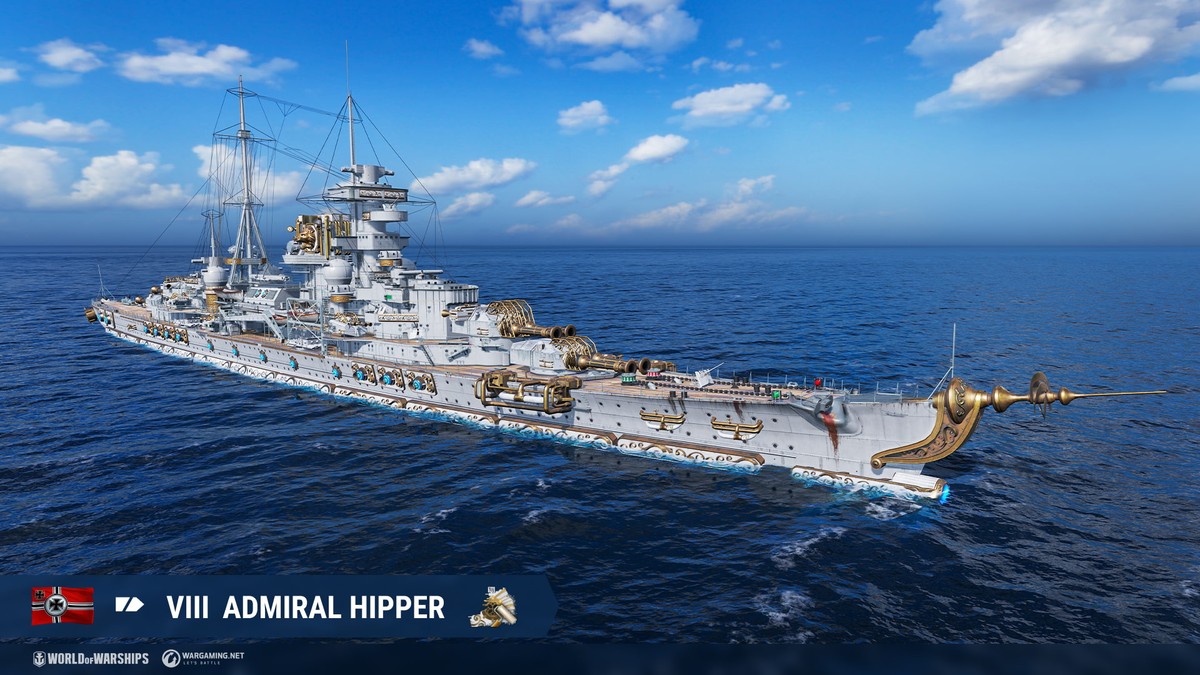 Submarines in Random Battles

Submarines have been present in Ranked and Co-op battles for almost 2 months now, and we're extremely grateful for the battles you've played, as well as your feedback. By participating and telling us your opinions, you helped us determine what the next steps in submarine development are going to be.
We've planned a number of future changes for the new ship type, based on the data we collected and player feedback. First, we're going to add anti-submarine weapons on all Tier V–X cruisers and battleships in Update 0.10.9, except for Dutch cruisers and hybrids.
We're aware that adding anti-submarine weapons on a large number of ships can have a significant impact on the effectiveness of submarines, so we've made a number of balance changes to the new ship type:
We've changed the characteristics of torpedoes—submarines now have tube-by-tube torpedo-launching capabilities. Tube-by-tube torpedo launching will allow for more dynamic gameplay and also allow better control over the number of torpedoes launched during an attack. To encourage submarine Captains to use sonar pings for better accuracy, the width of the torpedo launch sector has been increased
German submarines were weaker compared to American submarines in terms of damage they were able to deal. To make them even in terms of this parameter, we've increased the maximum damage and the chances of causing flooding of torpedoes launched by German submarines.
The torpedo tubes of German submarines are mostly located in their fore ends, which is great for attacking from longer distances. To shift German submarine gameplay toward long-range combat, we increased the range of their torpedoes.
American submarines, in their turn, can be quite effective in short- and medium-range battles, because their torpedo tubes are located in both their bows and sterns. To encourage American submarine Captains to embrace this style of combat, the range of American submarines' torpedoes has been reduced.
Reduced dive capacity depletion if the submarine is detected. The increase of dive capacity depletion in Update 0.10.8 significantly affected how comfortable it was to play submarines, and it also impacted their effectiveness. To make the detection of submarines impact their gameplay less, we've reduced the dive capacity depletion rates when submarines are detected.
Check out a detailed list of changes in a dedicated article on our website.
We've also changed the submarine settings in Co-op and Training battles. Now, submarines controlled by AI will take part in battles more actively. This change will prevent situations where the battle went on for far too long due to the process of searching for and destroying the last enemy submarine.
The next step in testing submarines is to add them to Random Battles. This will allow us to properly evaluate their state and gather feedback from a larger number of players.
Offering submarines in this way will help us keep an eye on how many of them are out on our seas and prevent extended queue times. We are going to keep a close eye on submarines in Random Battles, and we are able to take measures if their presence in Random Battles has an adverse impact on gameplay.
Interface Changes

In Update 0.10.9, we've updated the way in which ship characteristics are displayed in battle: Changed the ship parameters screen that opens by pressing H. Any modifiers currently applied to the ship are now displayed in the pop-up window.
Apart from that, the battle interface has additional indicators for various temporary effects:
Added the display of active skills and temporary modifiers of talents above the armament panel.
Added a notification about changed parameters when Commander talents are activated.
Updated the display of destroyed and incapacitated modules, fires, and flooding.
Added a setting in the "Controls" section that allows timers on fires, flooding, and other modifiers to be permanently displayed when the adaptive full combat interface mode is enabled.
Show More
Content Additions and Changes

World of Warships will see the addition of:
Two variants of German Battleships containers that have specific chances of dropping German ships VIII Brandenburg, X Max Immelmann, VII Weimar, VIII Gustav-Julius Maerker, and other rewards. Brandenburg will be also available in the Armory in exchange for Doubloons.
German Commander Johannes Meck-Leyne with a unique voiceover.

Loyang, Giuseppe Verdi, Marlborough, Novorossiysk, and Flag of the Tsar of Muscovy commemorative flags.

Regular Supplies container.
Especially for the King of the Sea tournament, we've added:
King of the Sea XIII Red and King of the Sea XIII Green expendable camouflages.
Commanders Edward Turner, Stepan Yermakov, Kenji Shiraishi, and Klaus Sternberger.
King of the Sea XIII commemorative flag.
Bane of the Seas permanent camouflage for VIII North Carolina.
Show More
Tech Tree ChangesIn early 2022, X Khabarovsk and X Grosser Kurfürst are going to receive the status of "special" ships and leave the branch. They'll be replaced with Delny and Preussen, which better match other ships from the branch in terms of progression and gameplay.
Any players who own a permanent camouflage for
X Khabarovsk or
X Grosser Kurfürst at the time when the ships are removed from the Tech Tree will receive the Type 20 permanent camouflage for Delny or Preussen, respectively.
Any players who had a permanent camouflage for X Moskva on their accounts at the time when Update 0.9.5 was released will receive the Type 20 permanent camouflage for X Alexander Nevsky within a week of Update 0.10.9 going live. Those who already have the Type 20 permanent camouflage will receive
5,000 Doubloons as compensation.
ArmoryThe "Naval Community" section will have several changes. Premium Ship V and Premium Ship VII containers, as well as the Restless Fire commemorative flag, will no longer be available for purchase.
The following ships will be available to purchase with Community Tokens:
IV Ishizuchi for 10,000 Community Tokens.
V Exeter for 15,000 Community Tokens.
VII Leningrad for 20,000 Community Tokens.
Apart from that, a bundle with a Supercontainer will become permanently available for
6,000 Community Tokens and without any purchase restrictions in the "Naval Community" section.
Other Changes and Improvements

Upgrade ChangesAnti-Submarine Aircraft Modification 1 upgrade (4th slot)
Renamed Airstrike Modification 1.
Added for all Tier V–X battleships, researchable Tier V–X Dutch cruisers, and VIII De Zeven Provinciën.
Technical changes of ship armorChanged the code that processed ship armor.
The update will allow for better interactions between shells and armor due to a more accurate calculation of the position of the shell in the ship's hull. For example, these changes allow us to avoid situations where a ship receives damage from penetration and overpenetration of the same shell at the same time. They also make it impossible to penetrate a ship's armor through various decorative elements on the deck.
The way in which the parts of a ship's armor are displayed will also change—it will be more detailed and uniform.
Other Changes and Improvements
Added the option to rent a Commander, similar to ship rental.
Fixed an error that caused the shell ballistics of IX Missouri to be calculated incorrectly in some cases.
Fixed an error that caused torpedo range not to be shown in the characteristics of torpedo bombers in the Port.
Fixed an error that caused the Airstrike bomb penetration value to be incorrectly displayed for X Gouden Leeuw.
Fixed an error that caused the Survivability Expert skill to increase aircraft HP by an incorrect value.
Other Improvements and Changes. For a complete list, please refer to Player Support.
---
World of Warships: Legends is now out for the PlayStation 4, PlayStation 5, Xbox One and Xbox Series X/S platforms. If you'd like to read more game updates and news, check out our Patch Notes section.
Source: Wargamming