Wargaming has just announced World of Warships Update 0.10.6 and we have the complete patch notes for you to read. The new update introduces the new Dutch Cruisers Part 1 Update and introduces new ships and the brand new dutch branch.
The patch will be available after a small maintenance period spanning from 14 July 3:00 AM PT till July 14 6:00 AM PT. The update will be a mandatory download while the file size is still unknown.
World of Warships Update 0.10.6 Patch Notes
Here are the complete patch notes for the update:
Dutch Tier IV–IX cruisers have arrived in Early Access. The new ships are effective at short and medium ranges. They also have a new armament type—Airstrike.
Two seasons of Brawls await you.
Various visual and technical improvements have been implemented, including the updated combat mission interface and AI improvements for bots.
The "Dutch Cruisers: Part 1" ● Brawls ● Clans ● Armory ● Content Additions and Changes ● Other Changes and Improvements
Read through the article carefully to claim two gifts from us at once! Share the article with your friends and Clanmates so they can also claim gifts, and make sure to dive in and arm yourself with all the essential info for this update!
---
THE "DUTCH CRUISERS: PART 1"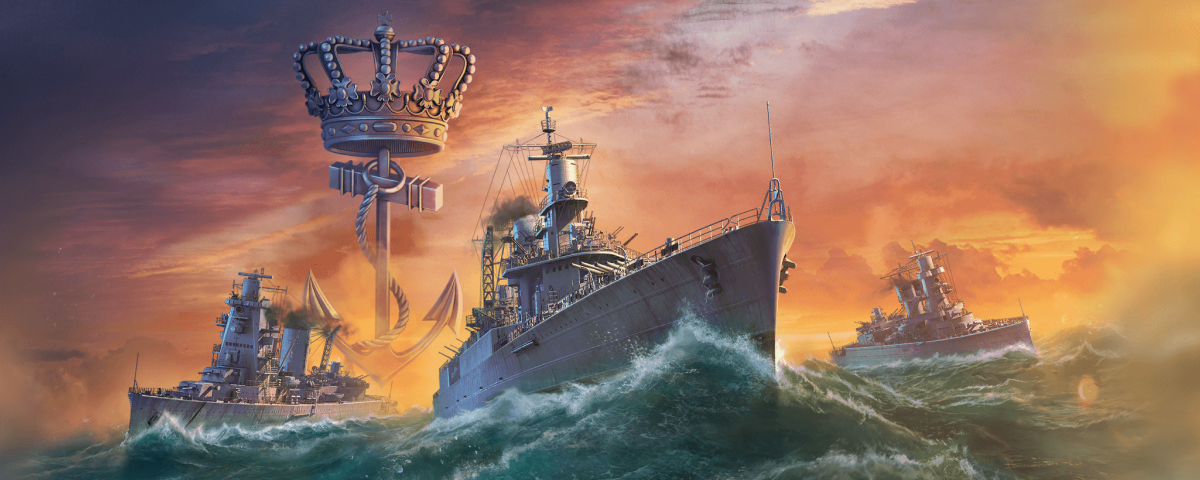 Dutch Tier IV–IX cruisers have arrived in Early Access.
Features of the branch
These ships have good maneuverability and concealment, but don't have great firing range.
The Tier VIII–X cruisers are armed with main battery guns that have impressive calibers for cruisers:

VIII Haarlem—203 mm
IX Johan de Witt—240 mm
X Gouden Leeuw—283 mm

At higher tiers, the new cruisers have solid armor that provides decent protection against HE shells.
The Hydroacoustic Search, Fighter, and Spotting Aircraft consumables are available from Tier IV.

Fighter and Spotting Aircraft are not available for VIII Haarlem, IX Johan de Witt or X Gouden Leeuw.

Defensive AA Fire and the Repair Party consumable with improved reload time are available from Tier VIII.
The new Airstrike armament is available from Tier VI.
Airstrike
Airstrike is a new type of armament that's set to make its first appearance on Dutch cruisers. It allows you to call in aircraft that bombard the specified area with HE bombs. Airstrike was created based on the low altitude bombing principle that was actually used in battle. Bombs dropped from aircraft in this manner had drogue parachutes which slowed their descent.
Operating principle:
When you activate Airstrike by pressing 4, an aiming reticle appears. This represents the location the bombers will strike. The strike area is comparablepa in size to two battleships.
Clicking the left mouse button calls in a squadron that bombards the specified area after a certain period of time. The aircraft cannot spot enemies and cannot be directly controlled.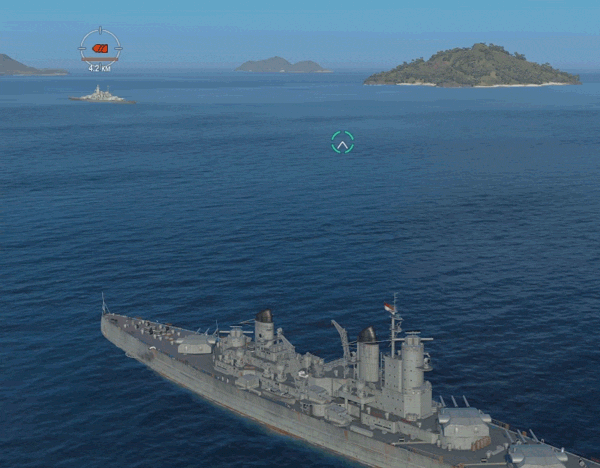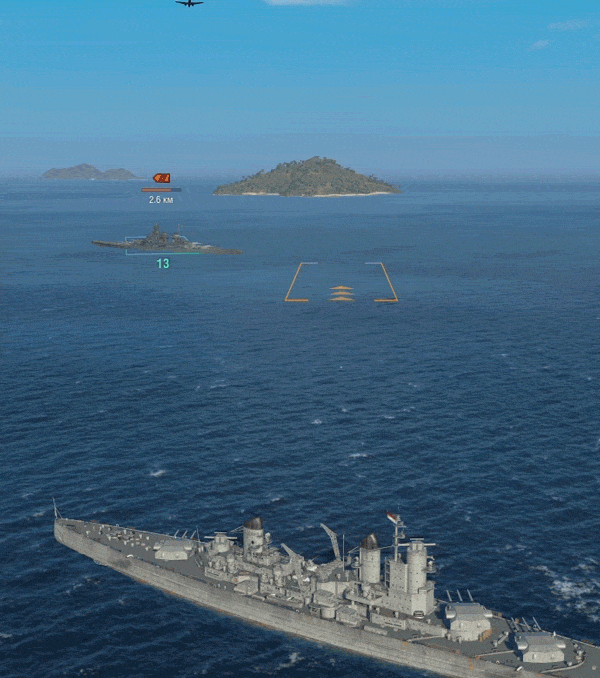 The bombs have drogue parachutes which slow their descent.
The indicator near the drop area shows how long it will take for the bombs to reach the target after the aircraft are called in. Airstrike is most efficient against targets with low maneuverability and ships sheltering behind islands.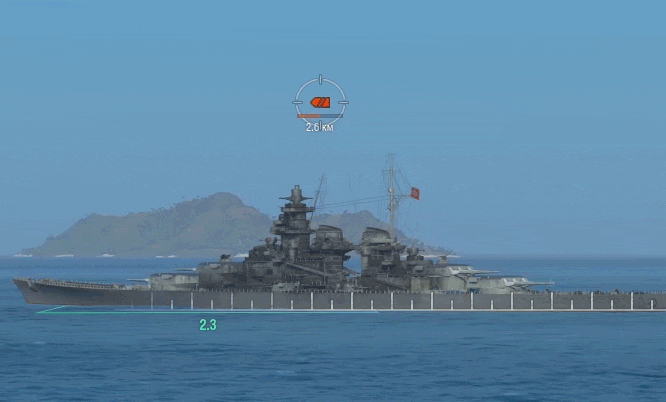 Preparation of Airstrike begins at the start of each battle, similar to the loading of main battery guns and torpedo launchers. Tier VI–VII cruisers can call in only one attacking squadron, while Tier VIII–X cruisers can call in two squadrons. The armament is reloaded in successive order. Airstrike has a maximum operating distance of 10–13 km, depending on the ship tier.
When using Airstrike, you should take the long descent time of the bombs into account. It's best to deploy this armament against low-mobility targets such as battleships and large cruisers. You can also use it to strike any enemy ships that might think they are safely hiding behind the cover of islands.
---
We've prepared a gift for you. Stay on the lookout for Community Tokens in this and other articles on our website! You can exchange them for containers that hold Premium ships and other items in the Armory. Make sure to keep up to date with the news, and be sure to share the articles with your friends so they can also claim gifts!
The reward can be claimed before: Mon. Jul. 26 6:00 AM PT / your local time: Mon. Jul. 26 6:00 PMClaim Tokens
Watch our official streams and participate in the Public Test and other activities to earn Community Tokens. In total, you'll be able to find up to 1,630 Community Tokens on our website until the end of Update 0.10.6.
---
How to get the Dutch cruisers
Complete combat mission groups and earn a new temporary resource—Dutch Tokens
. The reward for completing the second combat mission group is
V Celebes, and the final reward for the last combat mission group is
VII Eendracht. For the first and third groups, you'll receive the Kinderdijk Windmill patch and the "Dutch Cruisers: Part 1" commemorative flag, respectively.
Even more Dutch Tokens can be obtained from random bundles available for Doubloons, free daily bundles, and bundles that are available in exchange for Community Tokens in the Armory.
You can purchase sequentially available bundles using Dutch Tokens in the Armory. These bundles include:
IV De Ruyter,
VI Kijkduin, and
VIII Haarlem with Commanders and Port slots; permanent camouflages for
VII Eendracht,
VIII Haarlem,
IX Johan de Witt, and
X Gouden Leeuw; and other desirable rewards!
So, you can get the following rewards free of charge:
V Celebes and VII Eendracht—by completing all combat mission groups.
IV De Ruyter, VI Kijkduin, and the Royal Netherlands Navy permanent camouflage for VII Eendracht—by collecting all Tokens that can be earned by completing combat mission groups.
The Royal Netherlands Navy permanent camouflage for VIII Haarlem—by additionally collecting Tokens from free bundles and bundles that are available in exchange for Community Tokens.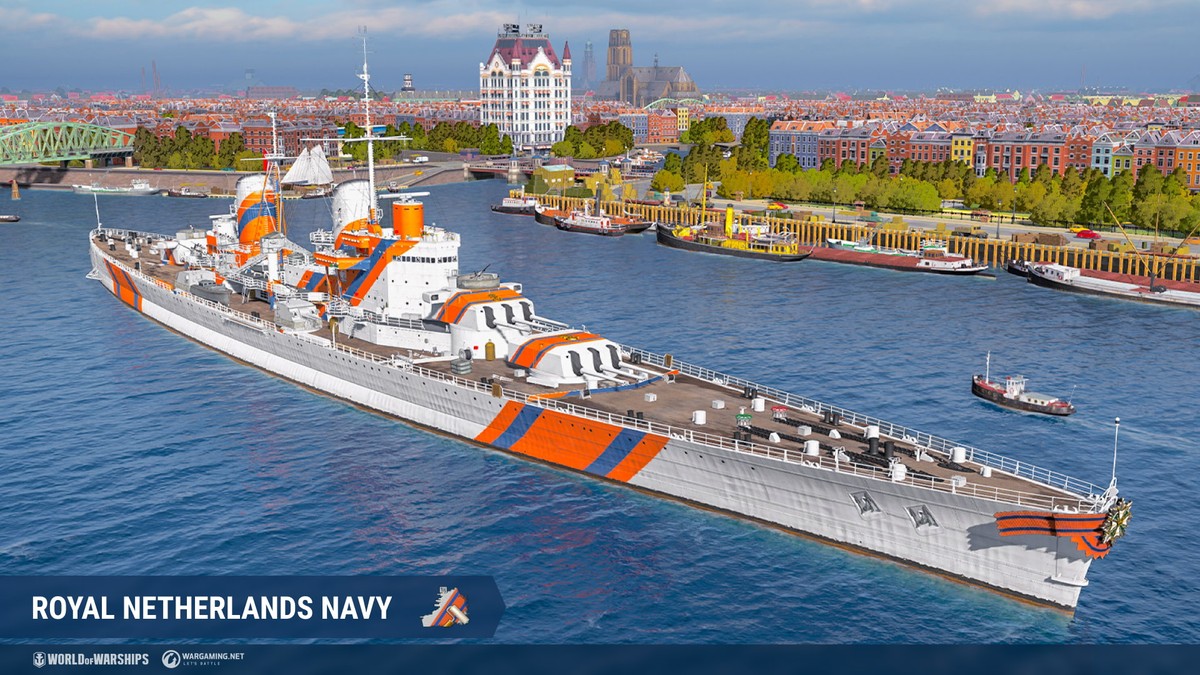 Rewards from random bundles available for Doubloons:
IX Johan de Witt with a 10-skill-point Commander and Port slot; Dutch Tokens; Flying Dutchman, Asian Lantern, Mosaic, and Spring Sky expendable camouflages; and special signals.
The Port of Rotterdam has been added to celebrate the event.
With the release of Update 0.10.8, Dutch cruisers will become available for all players to research. Dutch Tokens will be converted into Credits at the rate of 1:60,000.
---
BRAWLS

Two seasons of Brawls await you in Update 0.10.6. Brawls are open to all players, even if a player isn't currently in a Clan.
Third Brawl
Starts: Mon. Jul. 19 9:00 AM PT / your local time: Mon. Jul. 19 9:00 PMEnds: Mon. Jul. 26 2:00 AM PT / your local time: Mon. Jul. 26 2:00 PM
Format: 3 vs. 3, playing Tier VII ships.
Restrictions: no more than one ship of each type per team.
Fourth Brawl
Starts: Mon. Aug. 02 9:00 AM PT / your local time: Mon. Aug. 02 9:00 PMEnds: Mon. Aug. 09 2:00 AM PT / your local time: Mon. Aug. 09 2:00 PM
Format: 3 vs. 3, playing Tier VI ships.
Restrictions: no more than one ship of each type per team. The ship-type compositions of each team won't necessarily mirror each other.
The following conditions apply to both Brawls:
Prime Times:
ASIA 01:00 — 18:00 UTC
CIS 06:00 — 23:00 UTC
EU 08:00 — 01:00 UTC
NA 16:00 — 09:00 UTC
You can take part in the Brawl only during the time period specified for your server.
Maps and modes: Big Race, Shatter, Northern Waters, Loop, and Crash Zone Alpha in Domination mode; Two Brothers in the Epicenter mode.
Rewards for each Brawl: up to 10,000 Coal; 2,250,000 Credits; 80,000 Elite Commander XP; and 76 combat and economic signals.
You'll find a detailed description of the new Brawls in a dedicated article. Stay tuned for more news on our website!
---
Thank you for being an attentive reader! Click "Collect Your Gift" to claim 1 day of Warships Premium Account. The day of Warships Premium Account will start immediately after you click the button.Collect Your Gift
The reward can be claimed before: Mon. Aug. 02 6:00 AM PT / your local time: Mon. Aug. 02 6:00 PM
CLANS
Hall of Fame
A "Hall of Fame" tab has been added to the "Clan Battles" section. Winners of the previous seasons of Clan Battles in each region will be shown there.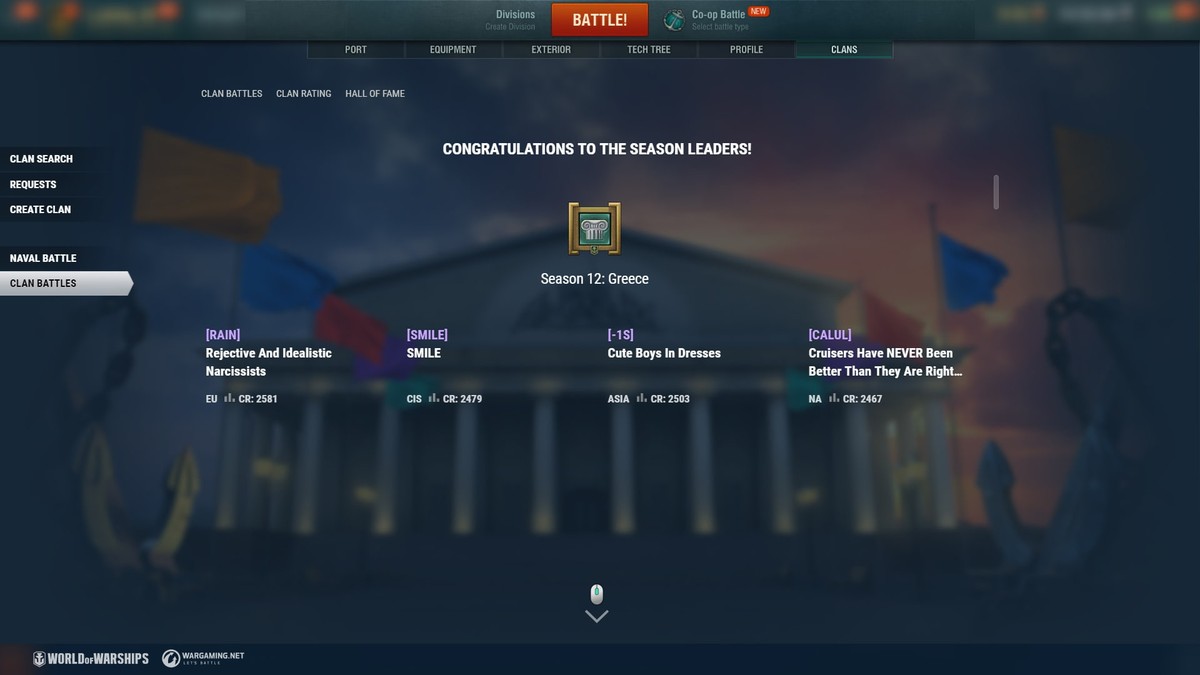 Division Star
Throughout Update 0.10.6, players will have access to special victory bonuses in the form of Division Stars. These are available for members of Clans.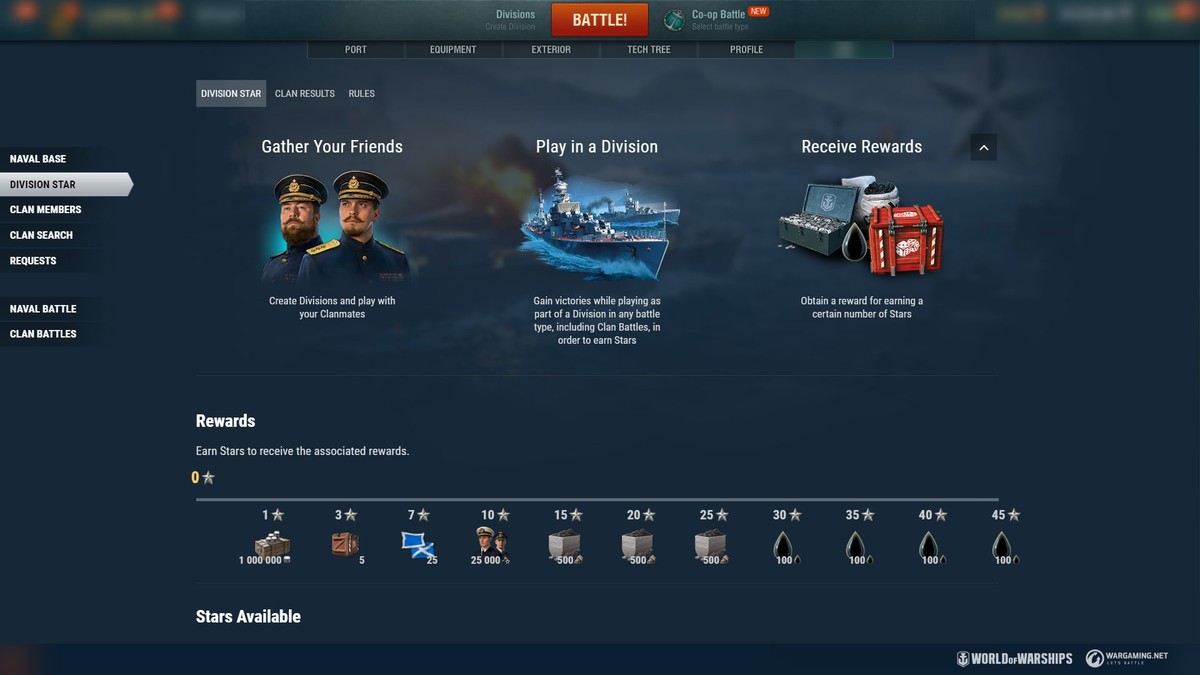 You can get a Division Star by playing in a Division with your Clanmates.
A Star is issued to each member of a Division for the first victory gained by that Division during Update 0.10.6.
The Stars can be earned in all battle types, except for Training Battles.
A certain number of earned Stars unlocks access to various rewards.
If you switch Clans, any Stars and rewards you previously received remain with you.
To see the roster of Clanmates who you can team up with in a Division, as well as the list of rewards you can get, navigate to the Division Star tab in the Clans section.
List of rewards

---
ARMORY

The new Floating permanent camouflage for
X Somers has been added and made available in exchange for 3 Clan Tokens.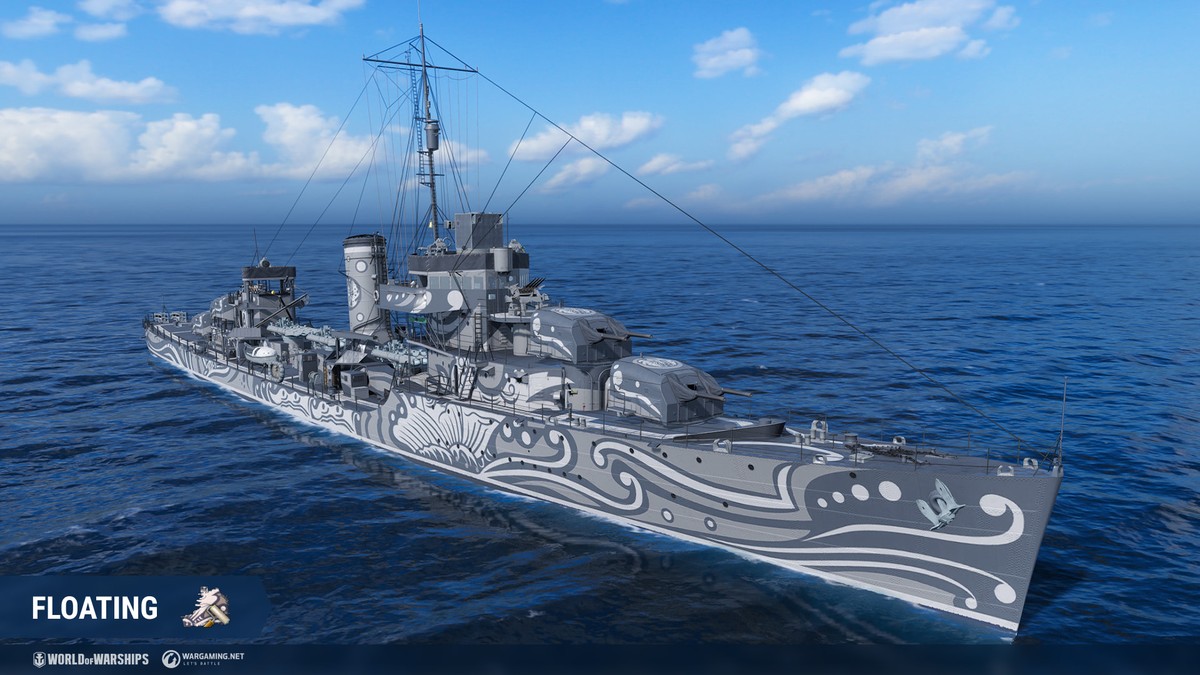 Added Dutch Commander Dasha Perova with 10 skill points. The Commander is available for 1,500 Doubloons.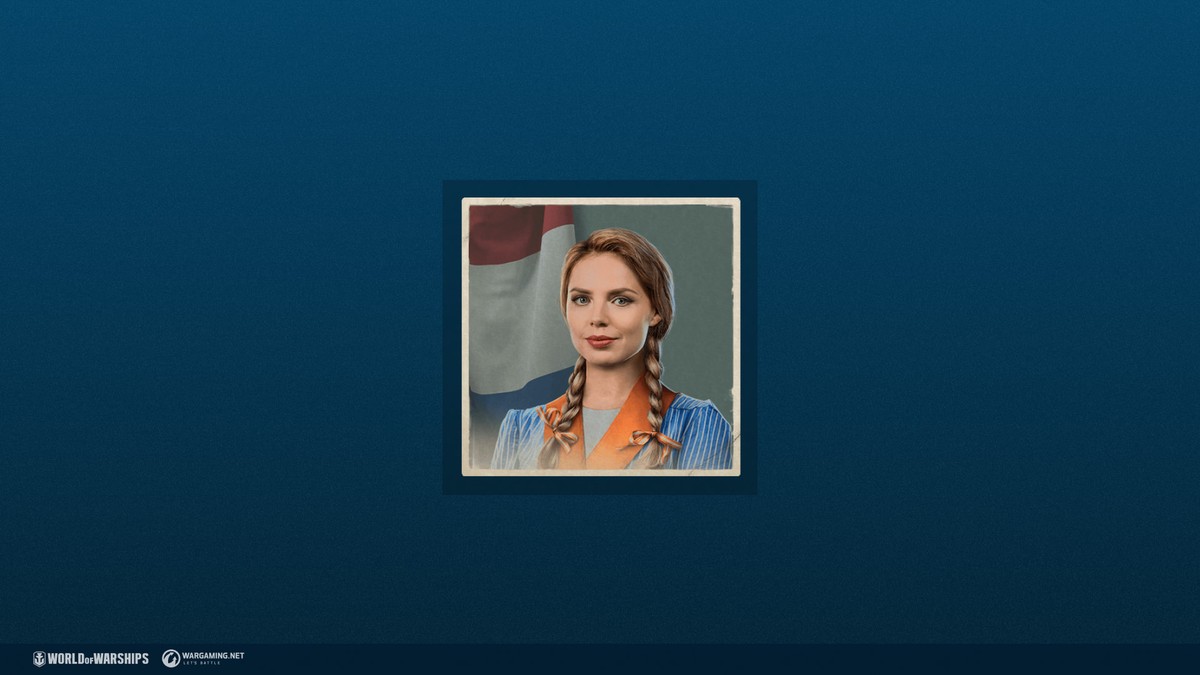 ---
CONTENT ADDITIONS AND CHANGES

Added the Grigio-azzurro chiaro permanent camouflage for
X Napoli.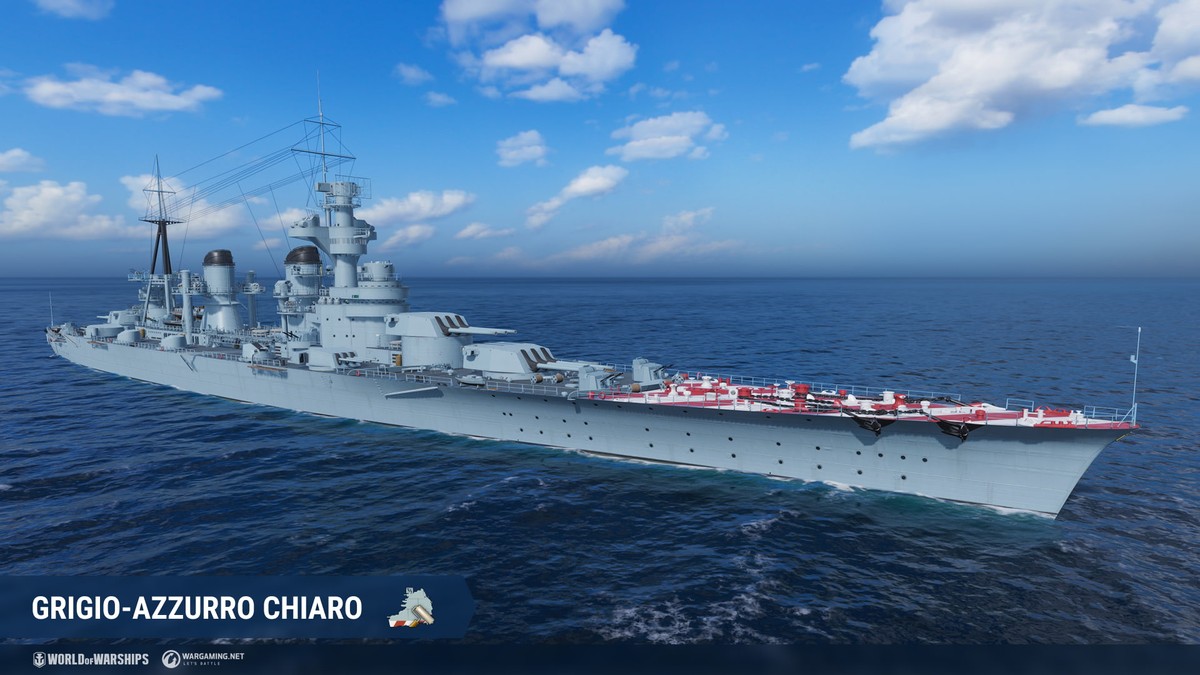 Added new Dutch Commander Michiel de Ruyter with the following enhanced skills:
For destroyers, cruisers, and battleships—Pyrotechnician: +1.5% to the chances of setting a target on fire when hitting it with HE shells (by default: +1%).
For cruisers and battleships—Expert AA Marksman: +35% to AA damage in the priority sector (by default: +25%).
Added four commemorative flags: Naval Ensign of Belgium, "Glory to the Navy!," Argentine Independence Day, and Colombian Independence Day, as well as the Arirang special flag.
Added the "Glory to the Navy!" and Swiss National Day patches.
Details on how to get these items will be announced later.
Added the Distant Voyages container. It can be obtained during the upcoming Summer Sale.
The Saint Petersburg Port has been decorated to celebrate Navy Day.
The following ships have been added for testing by developers, supertesters, and community contributors:
IV Komsomolets,
VI Serov,
VIII Pobeda,
X Admiral Nakhimov,
VIII Chkalov,
IX Kearsarge,
VIII Rochester,
IX Carnot,
X Connecticut.
With the release of Update 0.10.6,
IX Friesland will cease to be available. In Update 0.10.7 she'll be replaced with
IX Groningen, which is identical to Friesland. She'll be available for 1,000,000 Free XP and for 19,300 Doubloons. With the release of Update 0.10.7, owners of Friesland will be able to replace the ship with Groningen in the "Inventory" section. This can be done until the release of Update 0.10.8.
---
OTHER CHANGES AND IMPROVEMENTS

Visual and other enhancements
The combat mission interface has been updated
Added a new type of combat mission that allows players to choose one of two rewards after completing it. This means that you can choose a reward that you like or need rather than obtain a predetermined reward. If no reward is chosen, the first reward will be credited after the mission expires.
Priority missions are now highlighted. This will help you notice important missions or mission chains, such as those dedicated to certain activities, that offer valuable rewards, or that have a short duration.
The tooltip now shows the exact expiration time of the mission.
Fixed a number of errors that caused problems with how combat missions were displayed in the corresponding Port tab and on the post-battle statistics screen.
Missions that allow players to choose the reward, as well as highlighted priority tasks, will appear in the activities of future updates.
Updated the AI of bots
They can now adjust their speed to avoid torpedoes.
Reduced the likelihood of bots colliding with islands in Training and Co-op battles, as well as in Operations.
In Co-op battles, bots will try to change their course if there's a risk of colliding with other ships, rather than lower their speed or move astern.
This change will result in more realistic behavior for bots.
Discontinuing the support of user music
With the release of Update 0.10.6, support for user music (audio files in the res/userMusic folder) playback will be discontinued. The system of user music wasn't popular enough, and supporting it required a considerable amount of time and technical resources. For this reason, we decided to stop supporting it. If you would like to listen to your own music while playing World of Warships, we can recommend using various music streaming services or players.
Game balance changes
We've made some changes to the parameters of certain ships based on our analysis of their battle efficiency and player feedback. These changes were required in order to carefully adjust the balance of selected warships. Further changes may follow in future updates, should they be required.
Summary of Changes
Other changes
In Update 0.10.5, the mechanic that determines the contents of containers was changed—this is now determined at the point in time when the container is opened. This will prevent situations where players could receive a unique item for the second time if the container hadn't been opened immediately after it was received and the player had already obtained the item from the container.
In Clan Battles, when a cyclone appears, various weather effects will be displayed on maps.
Updated the button and animation for receiving rewards in the "Daily Rewards" section.
Optimized the performance of the game client with a large list of contacts or large blacklist.
For displays with a resolution of 1920х1080 or higher, the size of the mouse cursor now becomes larger proportional to the screen resolution.
Fixed an error that caused Co-op battles to take place with no more than two players in a team.
Fixed an error that prevented the priority target for secondary guns from being selected by clicking on the ship icon when the alternative battle interface mode was enabled.
The fighters of  X Yamato,  X ARP Yamato,  X Shikishima,  IX Ibuki and  X Zaō, as well as the Spotting Aircraft of most ships, now launch from catapults a bit faster.
Updated the icons of certain expendable and permanent camouflages. They now better match the look of camouflages.
Added a confirmation tooltip when converting XP from ships into Free XP or exchanging Doubloons for Credits.
Other improvements and changes. For a complete list, please refer to Player Support.
---
If you'd like to read more game updates and news, check out our Patch Notes section.
Source: World of Warships