Lost Ark is a free-to-play game that pairs both ARPG combat and MMO depth to create something very unique and fun. MMORPGs revolve around a lot of in-game mechanics and concepts. As such, there are tons of controls and settings you need to remember to get started. Learning all of these can feel like a drag since it is hard to find all the information in one place.
However, you don't have to worry as we will be covering all the Lost Ark controls that you need to remember. It might feel overwhelming at first but with constant effort, you will be a Lost Ark grandmaster in no time! With that said, here are the keyboard controls for Lost Ark PC.
Lost Ark Controls (Default Keybinds)
There are tons of controls in Lost Ark PC to keep track of therefore, you need to master the basic ones first to build up a ground base. Once you get the hang of them, it'll be easier to proceed from there. Please note that these controls are changeable and you can fully customize them if you choose to do so. You can also check out the best graphics settings for Lost Ark to maximize efficiency.
Here are the controls for Lost Ark on the PC platform:
Items and interaction
| | |
| --- | --- |
| Keybind | Action |
| F1 | Potion slot shortcut. |
| F2 | Music Instrument shortcut. |
| F3 | Mount slot shortcut. |
| F4 | Quest Item Use Shortcut. |
| 1, 2, 3, 4 | Battle Item slot shortcuts. |
Main Menu
| | |
| --- | --- |
| Keybind | Action |
| Tab | Extended minimap overlay shortcut key. |
| T | Auto-move shortcut key. |
| Y | Open up the Emotes list. |
| U | Opens the Friend list. |
| I | Opens up your Inventory window. |
| O | Opens the Affinity Info window. |
| P | Call the character info window. |
| J | Open Quest Journal. |
| K | Opens your Combat Skills window. |
| L | Opens the Life Skill window |
| B | HUD toggle shortcut |
| N | Opens the Adventure Book. |
| M | Opens the World Map. |
Related: All Outfits, Skins, Costumes in Lost Ark
How to Change Controls in Lost Ark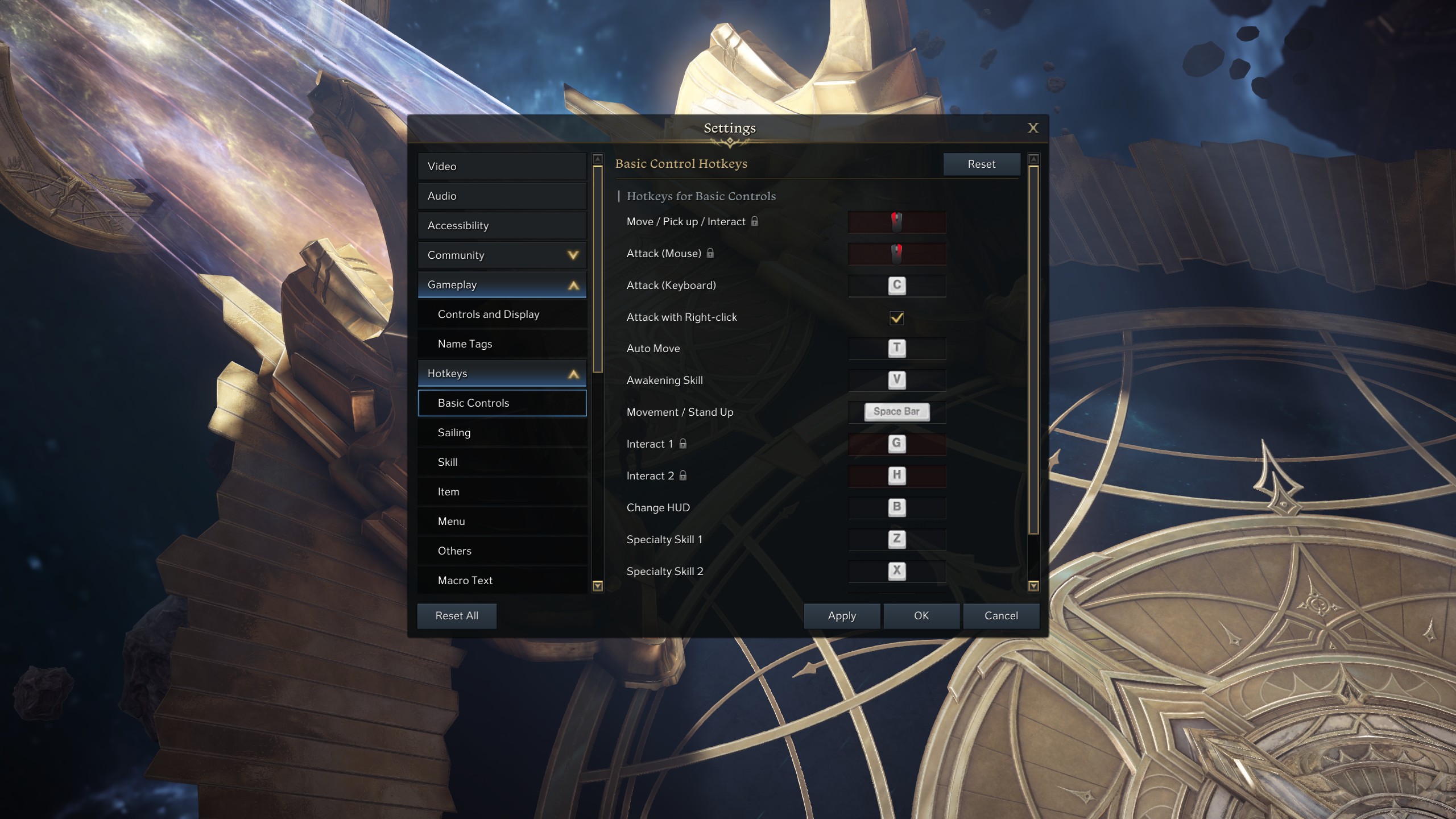 Almost every control is changeable in Lost Ark PC. This unfortunately does not include mouse controls since they are pretty much locked in place. Here is how you can change your keybinds in Lost Ark PC.
Open up the Game Menu by pressing the ESC button.
Locate and click the Settings Tab at the bottom of the menu and wait for the new window to pop up.
Click on the Hotkeys drop down box. From there, you can choose the type of controls you want to change.
Once you've selected a category, simply click on the hotkey you want to change and add a new one in place of it.
Do note that choosing an already active hotkey will unbind it from the previous action. So make sure you assign a new one to that as well.
Does Lost Ark Work With a Controller?
If you are wondering if you can play with a controller in Lost Ark then the answer is a complete yes! All you need to do for it to work is to plug in your controller. The controller on Lost Ark can be a bit clunky therefore it is better to stick with mouse and keyboard. If you do encounter issues then you may need to open steam controller settings and play with them instead of the in-game ones.
---
Those are all the controls in Lost Ark PC. Let us know what you think of the game so far. We would love to know what keybinds you are using in the comments below. Also, be sure to check out the Lost Ark Beginner's Guide.